Welcome to St. Edith!
Please note!
We recommend everyone wear masks for all inside gatherings at St. Edith.
2021 Catholic Services Appeal (CSA)
Each year, the CSA raises critical funds that support more than 100 ministries, services, and programs that fuel the mission. This mission is critical so we can respond to the material and spiritual needs of individuals and families throughout Southeast Michigan. This is how we act from the heart, putting Christ and his mission above all else. I am deeply grateful for the support you have shown to the CSA in the past. Because of the urgency of our mission, I ask you to prayerfully consider renewing your gift this year, and if you are able, increasing your gift to the 2021 CSA. With your sacrificial commitment, you help us to fuel the mission in each parish in our archdiocese and serve thousands of individuals and families throughout Southeast Michigan. Every gift makes a difference in our mission. Click here for more information.
Volunteer Opportunity - WAVE Project!
There is a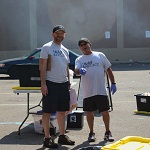 n opportunity to help the WAVE Project provide hundreds of showers to the homesless during October. We need your help to make it happen! Please visit www.waveproject.org to learn more and sign up to volunteer. There are multiple dates with no volunteers registered. Thanks to parishioner Dan Gauvin (on the right in the photo) for helping set this up!
Adoration
Adoration will be available for 15 minutes after one Mass each weekend during October. Beginning in November, Adoration will be available after Mass on a monthly basis.
Sunday, October 24 - after 11:00 am Mass
Sunday, October 31 - after 8:30 am Mass
Go to main navigation