Lent is Upon Us! Are You READY?
We invite you to Connect With Us this Lenten season! Coming together for prayer, reflection, and fellowship can help us to grow in and nurture our own faith while also making strong connections with others and strengthening our parish community. St. Edith has a variety of Lenten activities planned to help us prepare for Easter Sunday!
View the full Lenten schedule
Volunteers Needed! Foot Washing!
Please consider volunteering to take part in the Washing of the Feet at the Holy Thursday liturgy. This is a beautiful part of the service that reminds us to be like Jesus and that no task, no service, no gesture is beneath those who follow Him. We are in need of twelve volunteers on April 6, at 7:00 PM. Please call the Parish Office to sign up at 734-464-1222. Thank You!
Friday Fish Fry Information
Are you ready for the best Fish Fry in the universe?! There will be a Friday Fish Fry every Friday during lent from 4:30 pm - 7:00 pm. (Note: on Good Friday, April 7, the Fish Fry begins at 3:30 pm). There are several options on the menu to satisfy every palate! We encourage you to join us after dinner in the church for Stations of the Cross.
Show your Eagle Pride!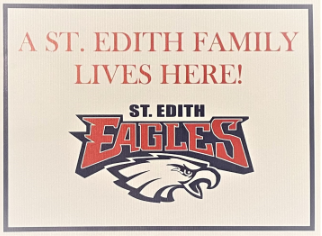 The 8th graders will be selling yard signs with stands. Signs are 18 x 24 inches in size and will have a metal stand so they can be proudly displayed in your yard. Each sign will cost $20. Thank you in advance for your support of this fundraiser. Cash or checks are accepted. Please make checks payable to St. Edith Catholic School. Orders are due by Monday, April 3rd. Questions can be emailed to mmood@yahoo.com.
March is Parenting Awareness Month
Parenting Awareness Month is unique to Michigan and has been celebrated since 1993. This initiative is a time to emphasize the importance of effective parenting in helping children to become healthy, independent, and caring adults. Patti Kelly, the St. Edith Social Worker, has assembled information on a variety of locally planned parenting events in March, and education and resources for developing parenting skills year around. Click here to see the full list.
Go to main navigation