Mass - Saturday, June 12, 2021
Eleventh Week in Ordinary Time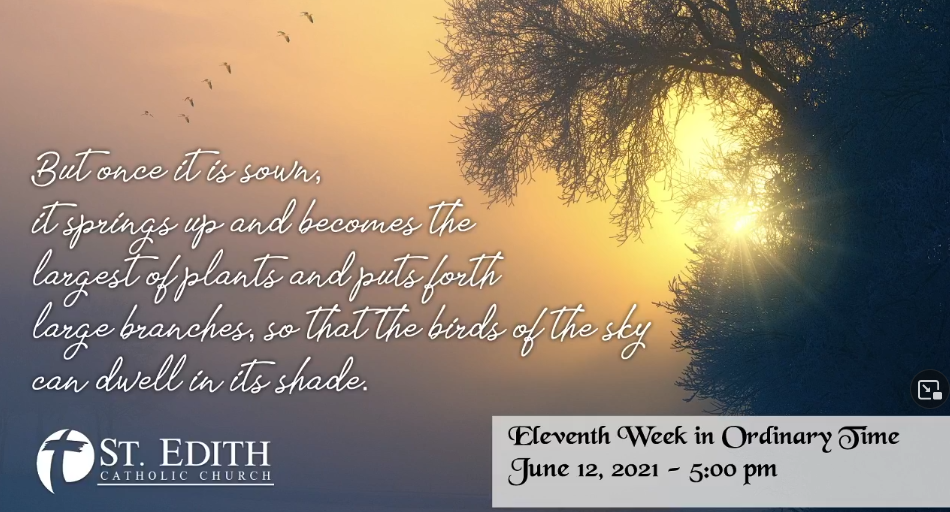 ---
Outdoor Masses
Outdoor Mass will be held on Sunday mornings at 8:30 am (weather permitting). Please bring a lawn chair. Masks are optional. Note: the June 27 8:30 am Mass will be indoors
---
Reconciliation
Fr. Jim will be hearing Confessions on Saturdays in the AV Room from 3:30 to 4:30.
---
St. Edith Parishioners, Visitors and Volunteers
Welcome to St. Edith! If you are planning on coming to St. Edith for any reason, we ask that you please consider the following:
Do you have a temperature of 100.4 or higher or experiencing chills?
Do you have an abnormal or worsening cough?
Do you have a runny nose and/or congestion?
Do you have flu like symptoms such as muscle or body aches, headache, or fatigue?
Are you experiencing nausea, vomiting or diarrhea?
Do you have shortness of breath or difficulty breathing?
Do you have a sore throat?
Do you have a new loss of taste or smell?
Have you had close contact with anyone who has had a positive COVID19 test in the past 14 days?
Has anyone within your household taken a COVID 19 test and are awaiting the results?
Have you traveled out of the state in the last 14 days? If you are fully vaccinated and have no symptoms, you do not have to quarantine after travel.
If you answered YES to any of these questions, (unrelated to a known pre-existing condition, e.g. asthma or allergies), stay home, self-quarantine and follow the advice of your doctor.
If you are an EME and develop symptoms after you fill out the Sign Up Genius, please cancel your sign up and email dstrautz@stedith.org .
Thank you as we all work together to stay safe so that we may worship safely!
God bless!
---
The Parish Office will be reopening on Tuesday, June 1, 9am
If you are fully vaccinated, masks are optional
If you are NOT fully vaccinated, masks are required
Go to main navigation