BIBLE STUDIES
Faith & Fellowship Group
WHEN: Thursday Evenings // 7:00 - 9:00 pm
WHERE: St. Edith's A/V Room
CONTACT: Judy Wyzlic -- 734-620-2065
This group of men and women meets Fall to Spring to study and to support each other in our faith journey. We have covered various studies and programs available to us. We welcome new members to join us at any time!!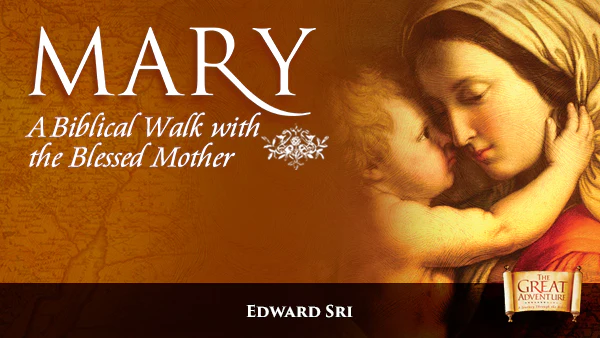 Get ready for an incredible journey of Faith and Fellowship in Fall 2023! Join us as we dive into the life of Mary, the Blessed Mother, in a powerful 8-week study led by renowned Dr. Ed Sri from Ascension Press. Discover the depths of Mary's faith and her profound impact on our spiritual journey. This transformative study will bring us closer to God and help us grow in our relationship with Him. Don't miss out on this amazing opportunity!
Women's Bible Study
WHEN: Thursday Mornings // 10:00 - 11:30 am // 8-Weeks beginning September 21, 2023
WHERE: St. Edith's A/V Room
CONTACT: Pat Motsinger (pmotsinger@gmail.com) or Marlene Dahlin (mcdahlin68@sbcglobal.net)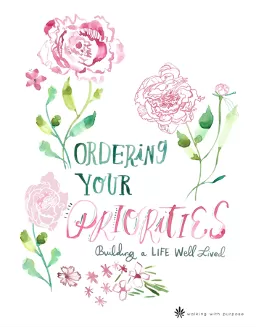 All are welcome to join the Women's Bible Study. We will meet on Thursday mornings from 10:00 to 11:30 am in St. Edith's A/V Room. We will study the "Walking with Purpose Study: Ordering Your Priorities" which is 8-weeks long. The first day of our study is Thursday, September 21 at 10:00 am.

You may order your book with the group ($22) to save on shipping. Please indicate this on the form when you register on the website. We need to have your registration and order information by September 1 to purchase the books for the group. If you wish to purchase the book on your own, the cost is $27.70 plus tax. Click HERE to purchase own your own.

Fishers of Men
Join us as we get ready for the weekend through prayer, discussing the mass readings, and fellowship with other Christian brothers.
WHO WE ARE: Catholic and Christian Men gathering weekly to advance spiritually, regardless of where they currently are at in their Faith Journey. Men do not have to belong to St. Edith Parish.
WHAT WE DO: We prepare for the weekend by reviewing the readings for Sunday's Liturgy, watch educational videos, and pray together. Just show up, nothing to bring. Copies of the Sunday readings are provided.
WHEN WE MEET: Meetings are held from 8:00 - 9:00 AM every Saturday morning, regardless of location.
WHERE WE MEET: On the first Saturday of the month, the meeting is held at the back room of Kerby's Koney Island Restaurant at Six Mile and Newburgh. From September to May, we meet at the St. Edith Parish Social Hall. Enter through the Christian Service entrance in the back St. Edith parking lot. During June through August, we meet outside at Sumac Pointe Park Pavilion, which is on Hines Drive, just west of Newburgh.
For questions, and to get on the email distribution list, contact Geoff Turbiak at 734-306-6150 or geoffturbiak@gmail.com.
Hope to see you there whenever you can make it!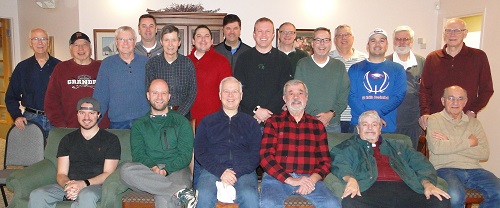 Go to main navigation