Bible Studies
Walking with Purpose Women's Bible Study
We meet every Tuesday, running for 22 weeks, starting on September 29 - March 16
Morning Session from 10:00 am - 11:30 am
Evening Session from 7:00 pm-8:30 pm
We will be using the Touching the Divine book (based on the Gospel of John)
Please order your own book online prior to our first class at walkingwithpurpose.com
This is a Bible Study written for women by a woman who knows the everyday struggles and joys we face being wives, mothers, sisters, daughters and friends. Beautifully and simply written to guide us through Scripture, where we explore core questions that lead us to experience Christ personally, within the context of the Catholic Church.
Click here for more information
Fishers of Men
PLEASE NOTE: We will continue to meet online via ZOOM during the quarantine. Join us Saturday mornings from 8:00-9:00am
Join us as we get ready for the weekend through prayer, discussing the mass readings, and fellowship with other Christian brothers.
For questions and the Zoom information contact Geoff Turbiak at 734-306-6150 or geoffturbiak@gmail.com.
Hope to see you there!
PLEASE NOTE: OUR REGULAR IN-PERSON MEETINGS HAVE BEEN POSTPONED UNTIL FURTHER NOTICE.
WHO WE ARE: Catholic and Christian Men gathering weekly to advance in their spiritual journeys by meeting men where they are.
WHAT WE DO: Review the readings for Sunday's Liturgy to prepare for the weekend, watch educational videos and pray together. Meetings are held from 7:00 to 8:00 AM every Saturday morning. On the first Saturday of the month, the meeting is held at the back room of Kerby's Koney Island Restaurant at Six Mile and Newburgh. Remaining Saturday meetings are held at the St. Edith Parish Office Fireside room where coffee and snacks are normally provided.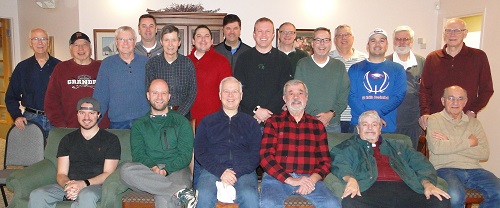 Presentation by Fr. Enno
Fr. Enno, a priest from St. Paul of the Cross Passionist Retreat and Conference Center, gave a presentation a few weeks ago at St. Edith's Thursday bible study class. Fr. Enno is originally from the Philippines and has a doctorate in World Religion from Notre Dame.
His presentation was titled "A Catholic reading of the Bible" and showed the Theoretical history of how the Church reads and interprets the Bible and how the Bible is used as the foundation for our theology as well as our spiritually. The second part of Fr. Enno's presentation relates to the first discussion with more detail of how during certain periods in time, certain books were moved to new locations to better put them in a better perspective and to make it easier follow. He mentions that some books were removed by Protestant sects. He mentioned that some people take a specific reading out of context which can change the overall meaning of what was meant to be conveyed.
Toward the end of the presentation, Fr. Enno had the participants break into groups to dissect a few readings and see how the meaning can change when read out of context, and how we can see several messages contained within one select reading.
Fr. Enno's full presentation is available as a series of short YouTube videos (linked below).
Go to main navigation