Young Adults
The St. Edith Young Adult group gathers for faith sharing and fellowship, getting spiritually recharged, building relationships and exploring what meaningful adulthood looks like. Join us for monthly outings the second Saturday of each month. We will also be doing some service projects together. All are welcome!

Additional Opportunities for Young Adults
Detroit Catholic Young Adults
The Detroit Catholic Young Adults serves young adults, ages 18-35 including college students, singles, professionals, engaged and married couples, and new parents. Young Adults are provided with opportunities to grow in faith and understanding, and in relationships with Jesus and others. There are many faith formation and social events, as well as small groups which provide the opportunity to develop authentic friendships while growing in faith.
DCYA Special Events
DCYA EVENTS MAY 2022
MAY 4 | 6:00PM Bonfire and Grill Out - Lake Orion Young Adults
MAY 5 | 6:00PM Tastes of Italy
MAY 10 | 7:00PM YCP Detroit Executive Panel Discussion: Sacred Music
MAY 11 | 7:30PM St. Mary Young Adult Mass
MAY 14 | 9:00AM Called & Gifted (Charism Discernment Workshop)
MAY 14 | 10:00AM Hike and Meditation
MAY 14 | 12:00PM Sursum Corda - American Antigone Book Study and Short Talk
MAY 14 | 1:00PM Axe Throwing - St. Kieran Young Adults
MAY 14 | 5:30PM Young Professionals for Life: Pro-Life Apologetics on Tap
MAY 14 | 8:30PM Outdoor Movie Night
MAY 15 | 6:00PM Plymouth-Canton YA Ministry Meeting
MAY 15 | 6:00PM A Call to Discernment: Panel Discussion
MAY 17 | 6:00PM Let's Make Marry! (Engaged Couples & Newlyweds)
MAY 18 | 6:30PM Catholic Singles Holy Happy Hour
MAY 18 | 7:00PM Young Adult Bonfire
MAY 20 | 6:00PM Young Adult Discernment Retreat
MAY 20 | 6:00PM Saint Mary of Redford Spring Fling Gala
MAY 20 | 7:30PM Noches de Café Con Santos
MAY 21 | 8:30AM A Call to Mary Monthly Conference Series: Fr. Dan Zaleski
MAY 21 | 6:00PM Young Adult Evening of Recollection and Bonfire
MAY 21 | 6:45PM Shattered - Theatrical Performance
MAY 21 | 7:00PM Mercy Night
MAY 22 | 12:00AM Last Day to Register - DCYA Summer Soccer League
MAY 23 | 6:30PM Dating and Discernment
MAY 25 | 6:30PM Young Catholic Professionals Executive Speaker Series
MAY 25 | 7:00PM Discernment Group
MAY 26 | 6:30PM Together in Holiness Come & See Zoom Info Session for Host Couples
MAY 28 | 6:30PM Mass of the Ages Young Adult Watch Party
DCYA EVENTS JUNE 2022
JUN 4 | 9:00AM "Bold Beginnings" Marriage Preparation Retreat - June
JUN 9 | 9:45AM The Missing Generation: Strategies for Receiving and Engaging Young Adults in Our Parish Communities
JUN 10 | 4:00PM JP2 Project Camping Retreat
JUN 25 | 10:00AM Hike and Meditation
Michigan Young Adult Hiking & Rafting Pilgrimage
Join young adults (ages 18 -39) from across the state of Michigan from July 22 - 24 for a Catholic pilgrimage weekend of camping, rafting, prayer, friendship, and a 7-mile hike to the Shrine of the Cross in the Woods in Indian River. Learn more and register at 2022yasummerhike.eventbee.com/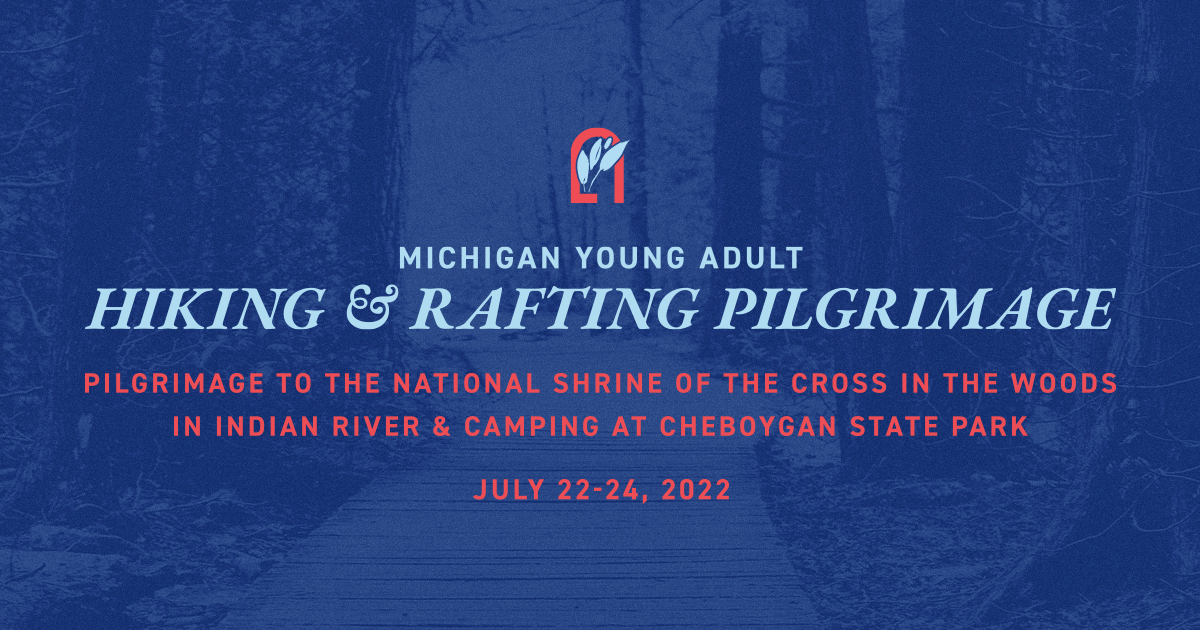 Young Catholic Professionals
Young Catholic Professionals (YCP) is a national organization with a unique mission to help young adults in their 20's and 30's grow in their faith. There is now a new YCP Detroit chapter and the Young Adults of St. Edith are invited to join.
Through the mission of YCP all are challenged to promote their Catholic identify as they "work in witness for Christ" both in their personal and professional lives. YCP hosts a variety of events throughout the year.
Go to main navigation