Sacraments of Initiation - Baptism
There is no greater status than becoming a son, or daughter of God!
Baptisms for Babies and Young Children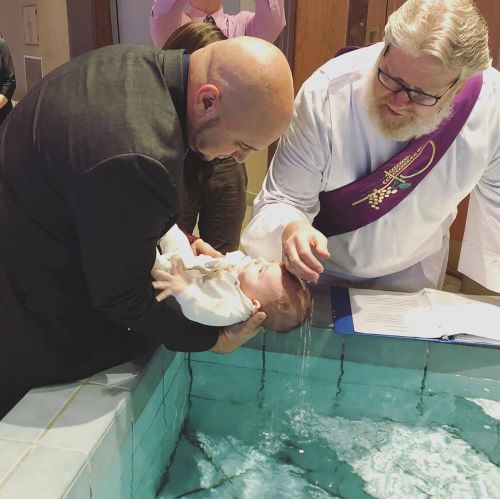 We are most pleased to be able to celebrate this first of the Sacraments of Initiation with you! Baptisms for babies and young children are normally celebrated on the 2nd or 3rd Sunday of each month at 12:30 pm in the Church, but may be on another Sunday depending on parish circumstances. Please contact the parish office for a specific date in a given month. The current Baptism schedule is available here.
Both parents are expected to attend a Baptism class offered the Friday evening before the Baptism. These classes are facilitated by members of our Baptismal Team on a rotating basis. The Baptismal Team assists at the Baptism. Please contact the Parish Office at least one month before the preferred Baptism date.
Baptisms for Older Children, Teens & Adults
For older children, teens and adults take on a different nature as the person themselves, and not the parents, or guardians, are the ones learning and experiencing the sacrament. For these we suggest the process of Becoming Catholic (the RCIA) for children, teens, or adults.
Contact: Deacon Don Esler, (734) 464-1222 Ext 324
A Bit about Baptism
"Baptism erases original sin and, by the grace of Jesus Christ, directs us back to God."
Baptism is one of the Sacraments of Initiation: Baptism, Confirmation & Eucharist. We call them that because in ancient times they were packaged as a unified experience. They all share a commonality of welcoming, gathering, initiating & sending out.
Go to main navigation