Inviting All Men to Join the Fishers!
FISHERS OF MEN GROUP
Who we are: Catholic and Christian Men gathering weekly to advance in their spiritual journeys by meeting men where they are at.

What we do: Review the readings for Sunday's Liturgy to prepare for the weekend.
Summer is a great time to try something new! All men in the parish are invited to join the Fishers! Meetings are held at 7:00 – 8:00 AM every Saturday morning. On the first Saturday of the month, the meeting is held at the back room of Kerby's Koney Island Restaurant at Six Mile and Newburgh. Remaining Saturday meetings are held at the St. Edith Parish Office Fireside room, where coffee and snacks are normally provided.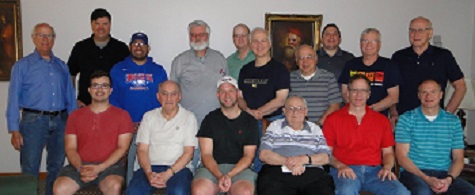 Go to main navigation