He is Risen! Alleluia!
Congratulations to the individuals who entered into full communion with the Catholic Church at the Easter Vigil! We are so happy to have you as part of the St. Edith family! Thanks to theRCIA team, Pat Bondie, John and Denise Brady, Walter Williams and Deacon Don. It takes a lot of work to prepare individuals to receive the sacraments, we thank you for all of your hard work!
Also, thank everyone who participated in their ministries during the Triduum, the ushers, lectors, Eucharistic ministers, sacristans and altar servers. We would not be able to do these special liturgies without all of you. want to thank the high school teens for their participation in the Stations of the Cross and the Liturgy of the Word on Good Friday. You are the present and future of the Church and we love to see you involved. And a special thanks to all of our musicians. You have worked very hard during this time and added a great deal to our liturgies. Our liturgies would not be the same without the music! And thank you to our Art and Environment Committee. The joy of Easter is certainly present in our church due to your hard work. also want to thank Deacon Don for participating in our Parish Lent and Holy Week celebrations. This was his first year as a Deacon and am very happy to have him at St. Edith.
The fifty days from Easter Sunday to Pentecost are celebrated in joyful exultation as one feast day, or better, as one great Sunday. These above all others are the days for the singing of the Alleluia! The paschal candle, a symbol of the presence of the risen Christ among the people of God, remains in the sanctuary through Pentecost Sunday. It will be lit at all liturgical celebrations.
Be aware of spring and all the new life around us. Jesus is the Resurrection and the life. All things are possible with Him. We have great hope for the future!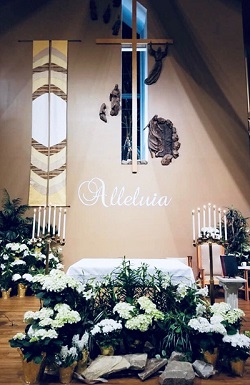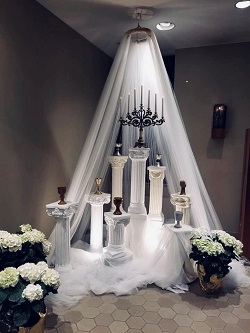 Go to main navigation