Volunteer Information
Thanks for your service to the parish! Nothing will make you feel like you are part of the parish community more than volunteering. And there are many opportunities to get involved. Whether it is a onetime event like helping out at the Summer Picnic, or an on-going commitment like being a Welcome Host at Mass there is always a need for dedicated volunteers. There is always a need for you!
Take a look at the Parish Ministries & Events at a Glance publication for a full listing of the opportunities available.
Featured Volunteer Ministry - Parish Picnic
Mark your calendars for the St. Edith Picnic coming up on August 19! We can't do it without you! Consider signing up for a volunteer shift - we have many different time slots and volunteer opportunities. Sign up with a family member or friend! Sign up today!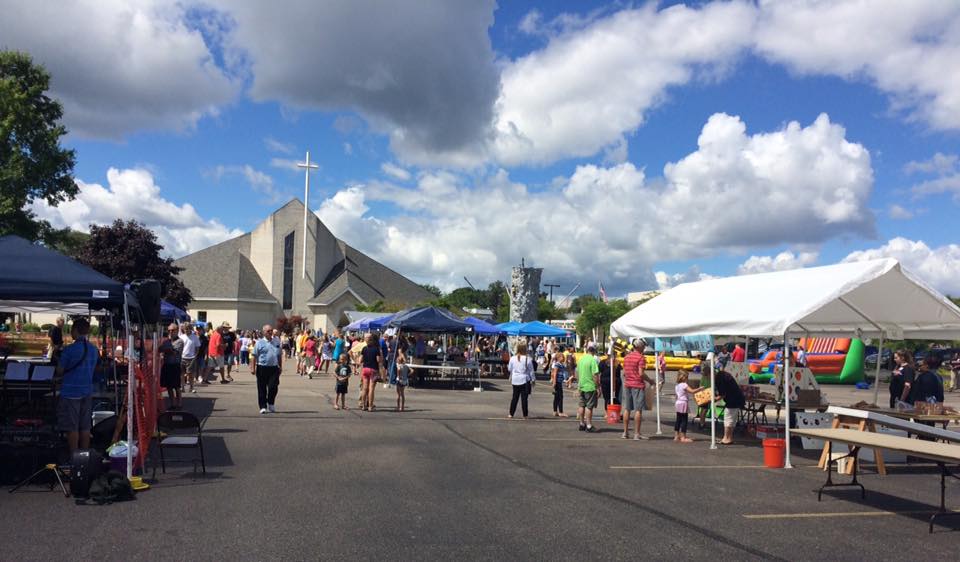 Featured Volunteer Ministry - Usher's Ministry
Our Ushers are called to be on the front lines for assisting and welcoming our parishioners and visitors at St. Edith. We are currently looking to grow our Ushering Ministry, especially at the Sunday 11 am Mass.
Being a member of the Ushering Ministry is very rewarding and is a great way to get involved and meet other members of the St. Edith Community.
The Ushering Ministry is open to any confirmed Catholic and we welcome and encourage any parishioner to join the Team. We have many family members that usher together – spouses, parents and children, siblings, etc. Bring a family member or bring a friend! Ushers are placed on teams which generally serve at a specific Mass every other month.
If you love helping people, have the hospitality charism, or just want a fun and easy way to get involved, the Ushering Ministry may just be what you're looking for! For more information, please contact the parish office at 734-464-1222 or parishoffice@stedith.org.
Creating a Safe Environment
In order to offer the most safe and secure environment we can for those we're serving as a volunteer we ask that each volunteer (18 years of age and older) attend, at no cost, a "Protecting God's Children" (PGC) workshop and complete a "Criminal Background Check Authorization Form" (CBC). In addition, each volunteer will receive a copy of the "Volunteer Code of Conduct" informing each volunteer of volunteer expectations for assuring the safest environment for our children and other vulnerable members of our faith community.
A copy of the PGC certificate, the original CBC authorization form and an "Acknowledgement of Reception of the "Volunteer Code of Conduct Form" is to be turned into the Parish Office. All items are kept in a confidential file.
Volunteering as a Teenager
Thank you for helping out! High School-aged employees/volunteers must receive certification from an Archdiocese of Detroit "Called to Serve" workshop and complete a "Teen Volunteer Criminal Background Certification Form."
A copy of the "Called to Serve" certificate you will receive at the workshop and your Background Certification Form must be turned into the Parish Office. Both items will be kept in a confidential file.
What is Called to Serve training?
Called to Serve is an interactive safe environment training program for teens in our Catholic High Schools and Parishes. Participants leave empowered to:
Use talents to effectively & responsibly serve other
Work with and be role models for children
Communicate and partner with adult supervisors
Interact appropriately with peers
Recognize and respond to inappropriate behavior
Who is required to attend Called to Serve workshops?
All tenth grade students in Catholic High Schools
Teens grades 9-12 who are church and/or Catholic School employees
Teens grades 9-12 who volunteer with children
All other teens in grades 9-12 are welcome and encouraged to attend. The workshop is free of charge and is held throughout the Archdiocese. You may register for the workshop online.
Go to main navigation