Mass & Worship Times
Mass Times
Weekend Mass Schedule
Saturday Vigil - 5:00 pm
Sunday Liturgy - 8:30 am and 11:00 am
5pm (1st Sunday of each month)
Daily Mass Schedule
Weekday Liturgy - Monday through Wednesday, 9:00 am
Sacrament of Reconciliation
Saturday, 3:30 pm in the Chapel or Individual by Appointment
Eucharistic Adoration with Exposition
Chapel Hours
Adoration Hours
Monday, Wednesday, Thursday, and Friday
7:00 am to 10:00 pm

Saturday - 7:00 am to 6:00 pm
Sunday - 7:00 am to 1:00 pm
Adoration with Exposition Hours
Tuesday - Beginning following the 9:00 am Mass in the Chapel, closed with Benediction at 9:00 pm
After Mass
Adoration is available after one Mass each weekend with accompanying music. Check the bulletin for a current schedule.
Catholic Story Time and Catholic Music Time
A Fun Way for our Youngest Catholics to Grow in the Faith
Second and Fourth Wednesdays -10:00 am (following Mass) - Story Time
Each session will be ~40 minutes in length and include Bible and faith-based stories, songs, fingerplays/rhymes, prayers, and movement activities, all in the context of the Catholic Faith. Each session also concludes with additional "play time" for the children and fellowship for parents/grandparents/caregivers.
All sessions will meet in the gathering space, with the alternate meeting spot being the parish library when there is a funeral. Come and join us in this wonderful opportunity for our littlest Catholics to grow in the Faith in an engaging and fun-filled way! If you have any questions, suggestions for themes, etc, please contact Anjanette Turbiak at (734) 674-5896 or ajturbiak@gmail.com.
First and Third Thursdays - 9:30 am in the AV Room - Music Time
The music classes will be a mixture of singing songs, dancing to the beat, playing different instruments (tambourines, bells, rhythm sticks, etc.) using various props to complement music (stuffed animals, parachute, etc.) and practicing hand and body motions, all in the context of learning to praise God with music.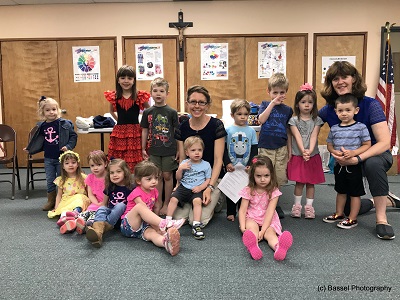 Gospel of Life Rosary
Please join us every Wednesday at 6:15 pm in the Chapel to pray the Rosary, Divine Mercy Chaplet and Prayers for Life.
Go to main navigation