Mission & Outreach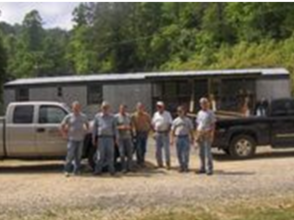 Jesus's command in Acts, Chapter One, is to be his witnesses for the local community (Jerusalem), the regional community (Judea, Samaria) and the international community (to the ends of the earth). Jesus also continually calls upon us to care for those who may need care, physically, emotionally and spiritually, Matthew 25, "I assure you, as often as you did it for one of my least, you did it for me." Our outreach serves the local and regional area; St. Christine's Soup Kitchen, Loaves and Fishes of Soutwest Detroit and Vista Marie in West Detroit.
Additionally we reach out in mission to areas of Eastern Kentucky assisting local parishes and agencies from cleaning, to painting, to carpentry to gardening & more. If you are interested in our Eastern Kentucky Mission please contact Patrick Young at (248) 672-7448. We are currently planning our Spring 2017 mission trip.
For many years St. Edith was home to a Ghanian priest, Fr. Louis Tuffour. Through Fr. Louis, we have continued his work of assisiting in his home Archdiocese of Kumasi, Ghana. Efforts to assist are coordinated through the Mission of Kumasi Archdiocese, based here in St. Edith. Please contact Deacon Ric at (734 464-1222), rmisiak@stedith.org, for more information.
Go to main navigation