Bible Studies
Great Adventure Bible Study
"The Great Adventure – A Journey through the Bible." This is the Catholic Bible Study that makes the complex simple! This Bible Study meets on Thursday nights from 7-8 pm in the Parish Library starting in October.
Call the Religious Formation Office at (734) 464-2020 for more information.
ENDOW Women's Study Group
ENDOW is a woman's fellowship & study group meeting every Tuesday morning from 10-11:30 AM in the fall and in the winter for a 10 week study session. All women are welcome to join and you can join at any time during the study session!
Women's Bible Study
How do the Letters of Saint Paul connect to the history of the Acts of the Apostles? What was the structure and governance of the Apostolic Church? How should the Catholic interpret the difficult passages in Paul's writing? Find the answers to these and many other questions in the pages of Acts and Letters in the popular "Come and See" Bible study series.
Commit to a few hours a week studying God's Word and come together with other women at St Edith. Feed your faith and keep the fire burning. This study runs from September April on Mondays nights from 7:00 pm to 8:30 pm in the Parish office conference room. Bring a Catholic Bible, Catechism of the Catholic Church and theCome and See Acts and Letters Bible Study. All women are welcome to join and you can join at any time during the study session!
For more information call Debra Beaman at 734-744-4597 or email at debra.beaman@yahoo.com.
Fishers of Men
Contact: Geoffrey Turbiak (734) 674-5896
The Fishers of Men is a Catholic and Christian Men's (Non-Parish Specific) weekly gathering to advance in their spiritual journeys, meeting Christ where they are at. During the meeting the group will review the readings for Sunday's Liturgy to prepare for the weekend. Meetings are held at 7:00 – 8:00 AM every Saturday morning. On the first Saturday of the month, the meeting is held at the back room of Kerby's Koney Island Restaurant at Six Mile and Newburg. Remaining Saturday meetings are held at the St. Edith Parish Office Fireside room, where coffee and snacks are normally provided.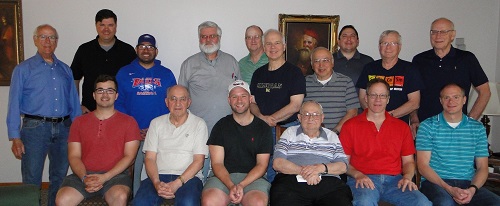 Go to main navigation