Elaine Johnston, Office Manager, Bookkeeper, Bulletin Editor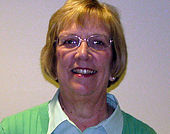 Elaine Johnston has been employed at the St. Edith Parish Office since July 1999 and a member of the St. Edith community since September 1984. Since she began attending St. Edith as a parishioner and serving the community as an employee, she has found the St. Edith community to be a welcoming environment to worship and through worship, has developed many friendships with the community members.
In her current role as the bulletin editor/secretary, Elaine prepares the weekly bulletin and performs a variety of duties both for the parish and parish office using her communication, interpersonal and organization skills. For example, you most likely have met and/or talked with her if you have come to the office to make a Mass intention, volunteered for a parish-wide mailing or called to schedule a Baptism.
Prior to her employment at St. Edith, Elaine served in a variety of volunteer positions while her children (Elisabeth, class of 1995 and Katharine, class of 2001) attended St. Edith School. She was a member of the Parent Teacher Guild (precursor to SEPA) and CYO boards and also volunteered as a school librarian and "lunch mom." Additionally, she served in a leadership role through membership on the Pastoral Council.
In her spare time, Elaine enjoys spending time with her family, gardening and cheering on the Wolverines.
She is in the office Monday-Thursday, 8:30 a.m.-4 p.m. If you have any questions or need assistance, please stop by the office, call (734-464-1222, ext. 326) or e-mail ejohnston@stedith.org. Elaine looks forward to meeting you!
Go to main navigation